Reemployment Assistance Application

If you have not already filed with Florida's unemployment system, do so. I know the system is bogged down and over capacity but we have been informed that additional updates are being made daily to enable registering. If you have been unsuccessful with applying through the online system or mobile app that has been made available, you also have the option to print the application and mail it in. The printable application is provided in the link to this article. If you have applied for UE and need to validate your identity, yet have been unable to get through on the 800# you can do the following: Email a copy of your ID and Social Security card, along with your claim# to indentityrequest@deo.myflorida.com or fax it to (321)332-6608

UPDATE 4/9/2020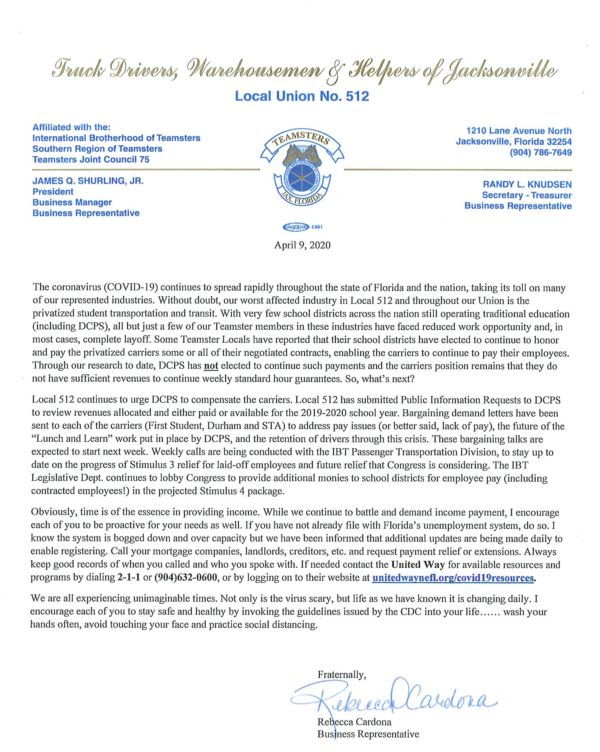 INFORMATION ABOUT ACTIONS LOCAL 512 IS TAKING DUE TO COVID19

ATTN: PASSENGER TRANSPORT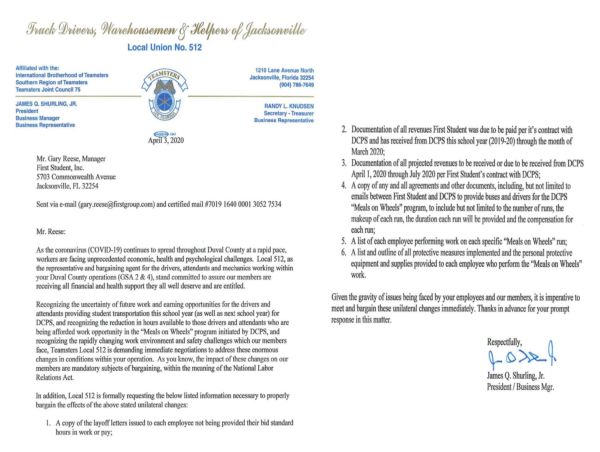 NEGOTIATIONS: Please note that this letter was issued to all three carriers servicing Duval County.( First Student, Durham, STA)

Durham Contract Proposal Meeting
TO: ALL MEMBERS EMPLOYED AT DURHAM SCHOOL SERVICES
FROM: REBECCA CARDONA, BUSINESS REPRESENTATIVE
Your current CBA (Contract) is set to expire on July 31, 2020. In order to prepare for negotiations on a new agreement, the Local will be mailing out an "Employee Contract Proposal" form for your use in submitting any proposal(s) to your negotiating committee for consideration. This correspondence will be mailed to the address we currently have on file. If you have moved or need to update your address, please contact the office at (904)786-7649 to ensure that you receive this important information.
Please submit your "Employee Contract Proposal" form to Teamsters Local 512, or a Steward at your facility prior to April 2, 2020.
There will be contract proposal meetings held at the Local Union Hall on Thursday, April 2nd at 10:30 a.m. (mid-day) and Saturday, April 18th at 1:00 p.m. (after the General Membership Meeting). Please mark your calendars and plan to attend. I look forward to seeing all of you at each of these important meetings!
Page Last Updated: Aug 22, 2023 (14:36:32)